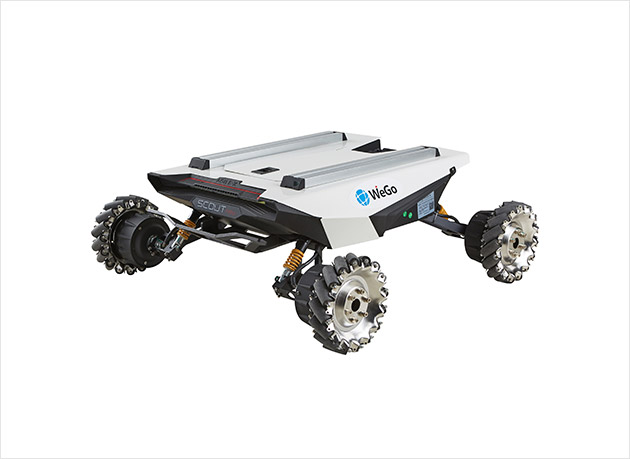 Made for self-driving research
Introducing WeGo-ST MINI, which enables indoor and outdoor self-driving research.
As product name infers, WeGo-ST MINI is a smaller version of WeGo-ST featuring a four-wheel drive and independent suspension. It has a maximum speed of 10 km/h and is a low-cost UGV platform that can be used for self-driving research and education. It is capable of RS-232 communication, and tasks can be performed using the preferred program on this R&D platform. A joytick with an E-STOP function can be used to control the device. WeGo-ST MINI has a four-wheel drive and drives quietly without making noise.
The top profile makes it easy to mount sensors. A mecanum wheel-type product was also released recently. It is used together with an educational curriculum for distribution transport at various schools for educational purposes as well. The size is 627×550×252 mm. There is the regular four-wheel drive and the mecanum wheel type (In -Wheel motor).
Major characteristics and advantages of the mecanum wheel
1. Left/right movement and turning is possible without a steering device, allowing for high efficiency compared to the structure/cost.
2. The driving radius is small, allowing for good mobility and usage of space.
3. Efficient transport/loading is possible between processes, reducing process times.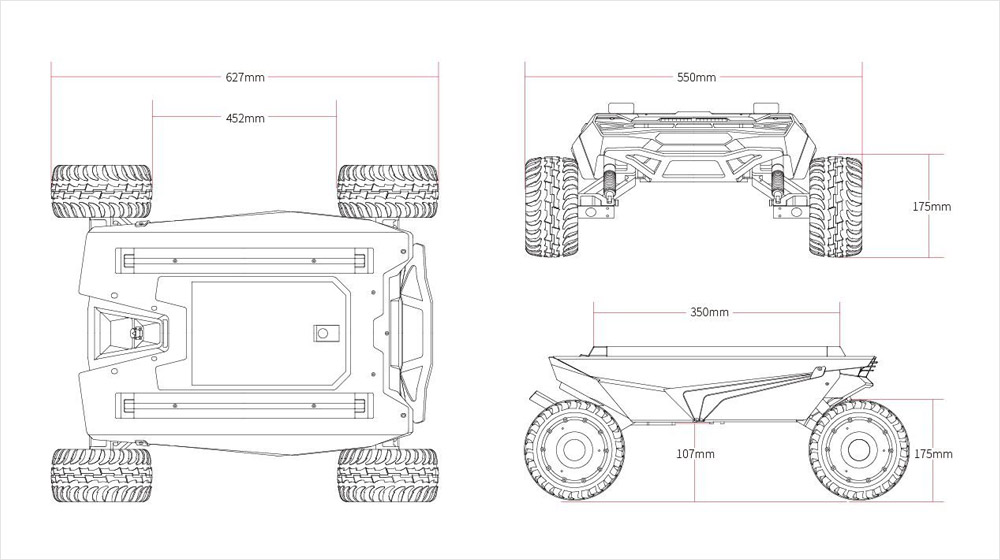 Standard Wheel / Mecanum Wheel
Products also come in mecanum wheel variants.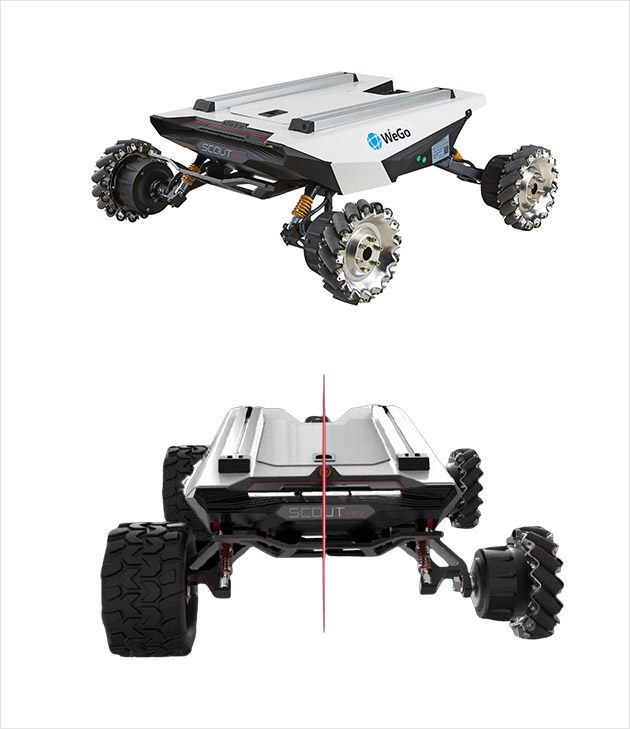 Dimensions (W x H x D)
627x 550 x 252 mm
Vehicle Weight
20 kg
Wheelbase
452 mm
Track
450 mm
Battery
리튬 배터리 / 24V-15Ah
Battery Operating Temperature
-20~60ºC
Charger
AC 220V Independent Charger
Battery Charging Time
2H
Outward Supply
24V
Minimum Ground Clearance
107 mm
Minimum Turning Radius
0 m (In-situ Rotation)
Max Speed
10.8km/h (Standard Wheel)
10.8km/h (Mecanum Wheel)
Rate Travelling Load
20 kg (Standard Wheel)
50 kg (Mecanum Wheel)
Climbing Ability
<30º With Loading
Obstacle Surmounting Capacity
70 mm
Communication interface
Standard CAN
232 Serial Port
Protection Level
IP22
Suspension Form
Independent Suspension With Rocker Arm
How to operate the WeGo-MINI (controllable) and set the manual, auto, and driving modes
1. Platform power On / Off
2. Turn on power by pressing two buttons of the joystick at once
*warning: before turning on the power, the top joystick needs to be pointing towards the top
3. Lowering the second switch on the joystick allows for left/right movement