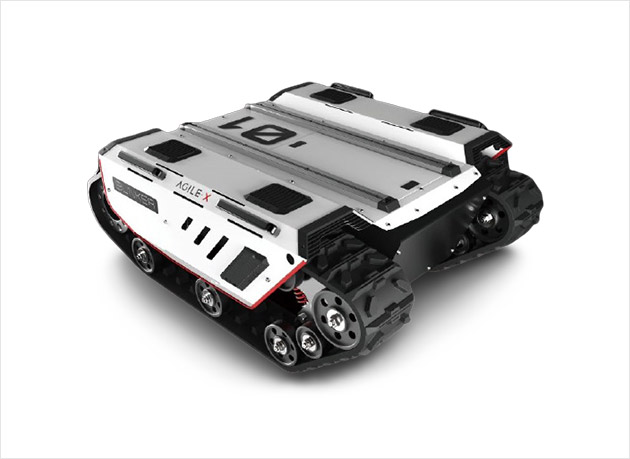 Crawler type, capable of movement on rough terrain
WeGo-BK is a powerful crawler-type UGV suitable for rough terrain.
WeGo-BK has a crawler-type differential mechanism that is very adaptable to terrain.
It was specially designed for special tasks. Its features include differential rotation, a powerful payload, low mechanical loss, and a high entry protection rate.The size of WeGo-BK is 1023×780×394 mm and its weight is 130 Kg. Christie Suspension compensates for external shock, and 2 of 650 W bruchless servo motor have been equipped. It is capable of climbing slopes up to 36 degrees and stairs (up to 17 cm). CAN communication is supported and so are open source SDKs and ROS.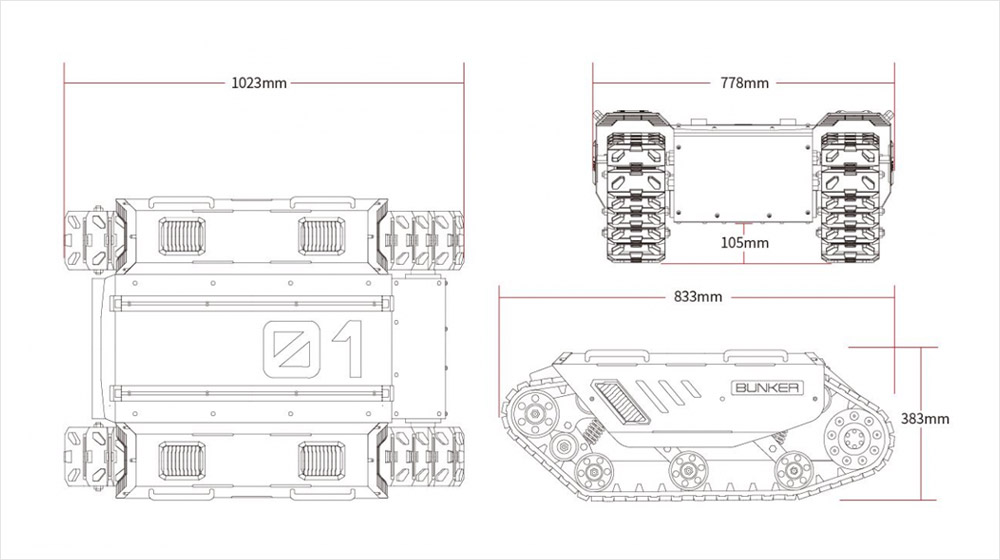 Dimensions (W x H x D)
ㆍ1023x 780 x 394 mm
Vehicle Weight
ㆍ130~135kg
Wheelbase
ㆍ360 mm
Battery
48V/30Ah(Standard)
48V/60Ah(Optional)
Battery Operating Temperature
-20~60ºC
Max Travel (without loadding)
10km
Charger
AC 220V Independent Charger
Battery Charging Time
2.5~3H
Outward Supply
48V
Drive Form
Left and Right Independent Drive Track Differential Steering
Stock Absorber
Left and Right Independent Drive 6 Shock Absorbers
| | |
| --- | --- |
| Minimum Ground Clearance | 100 mm |
| Minimum Turning Radius | 0 m In-situ Rotation |
| Rate Travelling Load | 80 kg |
| Rate Spin Load | 60 kg |
| Climbing Capacity | 36º Can Climb Stairs (No Load and With Loading) |
| Obstacle Abilit | 170 mm |
| Motor | 2 x 650W bruchless Servo Motor |
| Communication interface | Standard CAN |
| CodeWheel | 1024 Lines |
| Gyroscope Paeameters | 9-axis Gyroscope 0.01ºResolution |
| Protection Level | IP22 |
| Suspension Form | Christie Suspension |